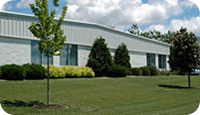 Established in 1976, Geneva Laboratories, Inc. offers laboratory services to the medical device, pharmaceutical, and personal care industries. Our location in Southern Wisconsin, within a triangle formed by Chicago's O'Hare Airport, Milwaukee's General Mitchell International Airport, and the Dane County Regional Airport in Madison affords easy access for our clients.
Geneva Labs' 22,000 sq. ft. facility houses laboratories to accommodate testing capabilities for Chemistry analysis, Microbiology, and Biocompatibility, including six ISO Class 5 (Class 100) clean rooms. In 2001, a second 21,000 sq. ft. facility was added, allowing us to expand areas to accommodate special projects and stability studies.
Our analysts are fully trained and re-certified annually, providing our clients with the assurance that their material, components, or product is tested in a timely and efficient manner with knowledgeable expertise.
Geneva Laboratories is FDA registered, GLP compliant, and accredited to                      ISO/IEC 17025:2017.